RE: Dagashi Kashi Season 2 Snack Buying Guide
Episode 3 - Part 2
The next toy in the trifecta of dagashi toys is pretty self-explanatory. Marbles. I'm sure most of you have played with marbles at some point in your childhood. Small, glass beads that roll around and knock other marbles out of a circular arena. However, there is a special type of traditional Japanese flat marble that is used in a game called Ohajiki.
Amazon.com has this to say about the traditional game of Ohajiki:
"Ohajiki is a traditional game for Japanese children. Players take turns flicking small, coin-shaped pieces called ohajiki with their fingers, to hit other pieces. In the old days, they used pebbles, or pieces from another game called "Go". Today, the pieces are usually made of glass. When playing, make a circle with your thumb and index finger (or middle finger), then flick one piece with your thumb. This game became very popular as an indoor game for girls during the Edo period (from 1603 to 1867). How to play: (1) All players lay down the same number of ohajiki pieces on a flat surface, and then do jan-ken (rock, paper, scissors) to decide the order of play. (2) The first person to take a turn gathers everyone's pieces, using one hand, and then scatters them on the surface. (3) The player then indicates two pieces, and draws an imaginary line between them to show how he or she intends to hit one with the other. (4) If the player hits the piece as indicated, he or she keeps it. Otherwise, it is the next person's turn. At the end of the game, the person with the most pieces is the winner."
You can get your Japanese marbles for Ohajiki at any of the following locations:
The third and final of the dagashi toy trifecta is something very unfamiliar to me, a strange little card game called Menko cards.
Menko cards, also known as Bettan or Patchin, is a card game played between two or more players. According to Wikipedia, "Each player uses Menko cards made from thick paper or cardboard, printed on one or both sides with images from anime, manga, and other works. A player's card is placed on the hardwood or concrete floor and the other player throws down his card, trying to flip the other player's card with a gust of wind or by striking his card against the other card. If he succeeds, he takes both cards. The player who takes all the cards, or the one with the most cards at the game's end, wins the game."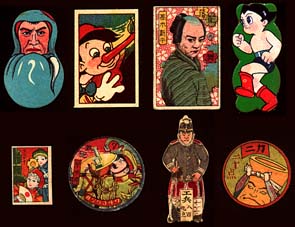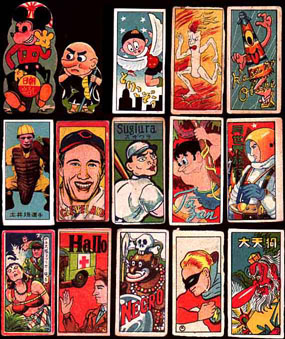 The website dking-gallery.com states that "the history of the menko spans 250 years, beginning in the middle of the Edo Period (the early 1700's) when menkos were made of dried mud or clay. The word 'menko' literally means small object with a face, and quite a few of the early menkos carried the face of a person or animal."
"Through the years, the medium for making menkos changed. New materials were used including tile, wood, lead (and other metals), and finally paper. The making of paper or cardboard menkos began around the Japan-Manchuria wars of the mid 1890's. These cards were block printed, blank-backed, and round. Some were hand tinted. As might be expected, due to Japan's preoccupation with military manifest destiny in Asia, most of these menkos portrayed faces of samurai warriors, famous politicians, or soldiers."
"In the 1920's and 30's, Japan embarked on an era of 'cultural renaissance' in which the country whole-heartedly adopted new Western ways of all types in an effort to stand tall as a 'modern' nation. All sorts of new motifs began appearing on menkos, such as religious subjects, Western comic characters, exotic animals, Silent-era Japanese theatrical stars, and figures playing sports such as baseball and soccer."
Rare Fatty Arbuckle Photo Menko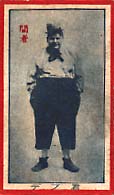 Menko cards are still popular today, and are still played with, however, not as much as they were in the past. If you and your friends want to get into playing Menko, then check out some of these places:
And so...

Then, the second half of the episode we take a major switch, and go back in time to when Hotaru was just a small child. We are given a transition image showing the young Hotaru dressed in what is probably a school uniform.
The child Hotaru walks into a dagashi shop run by an older, balding gentleman with a moustache.
The man sees her come in and recalls that this strange young girl had been coming in every day. Hotaru complains that the whole place is disorganized, and that the shelves were too high for kids like her to be able to reach. The old man thinks to himself that she comes in every day and lectures him on how to run the store properly.
Hotaru says that all the clutter must be done on purpose, to make her feel at home. She commends him on this, but decides to test his dagashi knowledge. Hotaru asks him when dagashi was born, and when he only grunts in reply, she starts off on a long history lesson all about how dagashi was born.
History tells us that the first dagashi were made using millet starch syrup. Millet is "a fast-growing cereal plant that is widely grown in warm countries and regions with poor soils."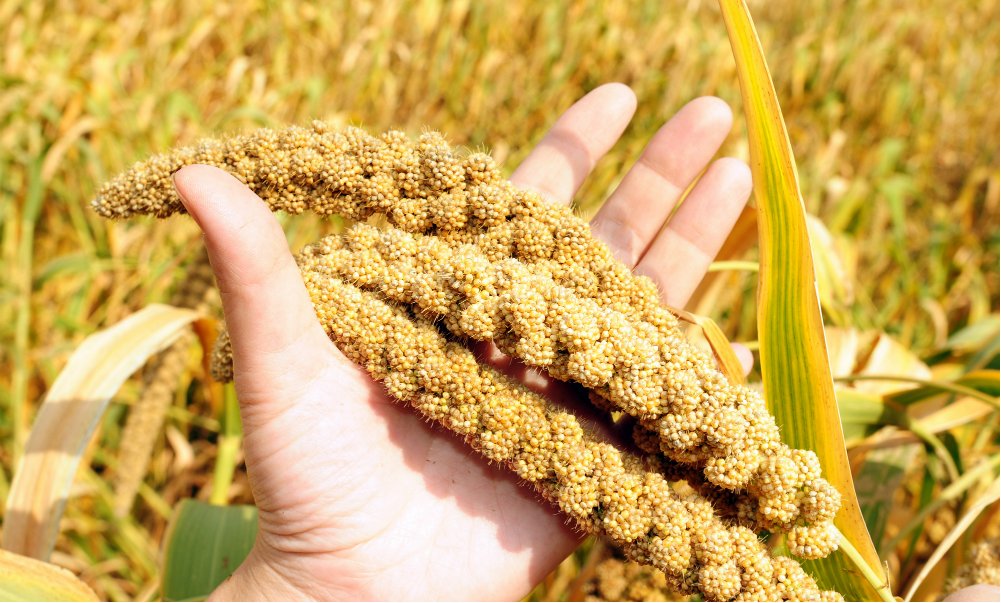 "The numerous small seeds are used to make flour or alcoholic drinks." Using the starch syrup to make dagashi from millet was considerably cheaper than jōgashi, which were made with white sugar instead of millet starch syrup and were considered higher quality. Dagashi were created during the Edo Period (1603-1868), and they were originally called ichimon snacks. These early versions of dagashi could be purchased for 1 yen.
Later, during the Post WWII era in Japan, there was a dagashi boom, and it was at this time that most of the iconic dagashi we have talked about were created. The boom lasted from the 50's into the 80's. During this time, dagashi shops were everywhere in Japan, and they were popular "hang out" spots for kids getting out of school. These days, we have a combination of both the new-school dagashi and the older, traditional dagashi.
Hotaru then walks over to a box of beigoma, the battling tops from earlier in the episode. Hotaru asks the dagashi shop owner if he can tell her the history of the beigoma.
The dagashi shop owner says that the game was originally played in the Heian Period (794-1185) using something called "baigai?" seashells, which were spiral seashells filled with sand and sealed with molten wax.
The game was first called baigoma, before the more modern version was created and the name was changed to beigoma. Hotaru is super impressed by all his hard work, and tells him to keep it up! Hotaru says that his shop is so important because it is the only one in town.
Hotaru then tries to teach the old shop owner to smile, saying that it will help bring in more customers. The shop owner tries to smile, but all he can muster is an intense smoldering.
Hotaru says, "Scary." Hotaru comments that, now that she mentions it, she hasn't seen any other customers at the store in a long time. The owner comments that maybe kids just aren't that into dagashi anymore. The man then apologizes and says that he shouldn't have said all that stuff to a customer. We get a glimpse of the sign outside the dagashi shop, which reads: "General Goods and Dagashi/Morimoto Store."
Hotaru puts her money down on the table, and buys a dagashi and a beigoma, and smiles, saying, "I'm going to come back tomorrow, and the day after. Every single day. So long as this place has dagashi."
As she leaves, she says, "Keep the change," and as the shop owner realizes she left exact change, he smiles to himself.
We cut to the present day, and we see Hotaru staring solemnly into the distance, an orange glow cascading down as the sunset begins to bloom.
Hotaru is looking at an empty lot between two buildings, the remnants of what used to be. A sign is posted in front of the lot that says, "Land For Sale." Lying on its side is the once proud sign that hung above the shop. "General Goods and Dagashi/Morimoto Store."
Suddenly, Hotaru's solemn look turns into one of happiness, as she smiles and remembers all the fond memories she made at the Morimoto Store.
Hotaru calls up Coconuts and tells him that she loves Shikada Dagashi. Coconuts at first thinks Hotaru is going to say that she loves him, but he quickly realizes that she's talking about dagashi. He laughs it off as the episode ends and the credits roll.
Oddly enough, in anime all about cheap snacks, there was actually only one dagashi on display this episode. It was in a brief scene at the end, when young Hotaru is buying a beigoma and some dagashi from the nice dagashi shop owner. Hotaru decides to grab one more item in addition to her top, and she chooses the Hokkaido Dice Caramel.
The website Hokkaidolikers.com stated that this popular snack has a long history, going back for many years. They interviewed "Donan Shokuhin," the producers of the Dice Caramel, and got the info straight from the source. The original caramel candies were simply called "Dice Caramel," and were first created by the Meiji company in 1927. The idea behind the caramel candies was a "playable snack," which quickly took off with children. It would remain a popular dagashi favorite for more than 90 years.
In recent years, however, the lines of production began to fade, and after a while, Meiji stopped producing Dice Caramels all together. However, Donan Shokuhin, a member of the Meiji Group, set themselves to the task of carrying on the Dice Caramel legacy, reforming their whole business model around the caramel candies. In March of 2016, the Dice Caramel stopped national distribution in Japan, and became a Hakkaido exclusive treat! It was renamed the Hokkaido Dice Caramel, which is the version shown in this week's episode of Dagashi Kashi.
Ryotaro Ishihara, president of Donan Shokuhin, stated that, "Our office design uses dice and route of the factory tour use motifs from dice. Dice Caramel is the identity of our company. If Meiji will no longer produce it, I negotiated directly to continue producing Dice Caramel as a souvenir from Hokkaido. We looked over the taste and ingredients again, and started selling as 'Hokkaido Dice Caramel' from this June."
Ryotaro Ishihara, President of Donan Shokuhin

The Hokkaido Dice Caramel is a brand new take on a classic Japanese tradition dating back for 100 years. Chie Honma, a member of the development team, said, "We changed condensed milk, which is the main ingredients of caramel, to a Hokkaido product. Also, we added a freeze dried milk powder from Hokkaido to make a richer taste of milk. We use beet sugar from Hokkaido, too."
Chie Honma, Member of the Development Team

Hokkaidolikers.com concludes, "It was very hard to make the caramel more delicious and protect the first tastes because many fans loved the original flavor. Also, the new package is out. Not only the bar with five boxes but 5 bars set for souvenirs. There are 179 cities and towns in Hokkaido and quizzes regarding the name of the cities printed inside the package. How perfect this is for a souvenir!"
They sound pretty delicious! If you are so inclined, you too can get in on the caramel action by following these links:
So that wraps up this week's episode of Dagashi Kashi. It was a fun episode, with some really funny scenes. The games were a lot of fun to see and learn about, and the one dagashi we got this week looks yummy and is available for purchase online. I have to say, I really liked this episode, we got some interesting backstory on Hotaru. She grew up going to the same dagashi shop almost every day, and she became close with both the store and the store owner, and I think that she was sad when the owner sold the property. When Hotaru calls Coconuts at the end of the episode, she says that she just wanted to call to say that she loves Shikada Dagashi. Part of the reason that she wants Coconuts to run his father's dagashi shop is because it is a very important part of her life. Hotaru loved the Morimoto Store, and now that it is gone, she is clinging to Shikada Dagashi. Hotaru knows that she is meant to inherit her father's candy company, but being at the dagashi shop with her friends is the happiest place Hotaru can be, and she wants to hold on to that as long as she can.
Dagashi Classics
This week's classics will be two of my favorite ones that I have gotten to try. The first is one called Seven Neon.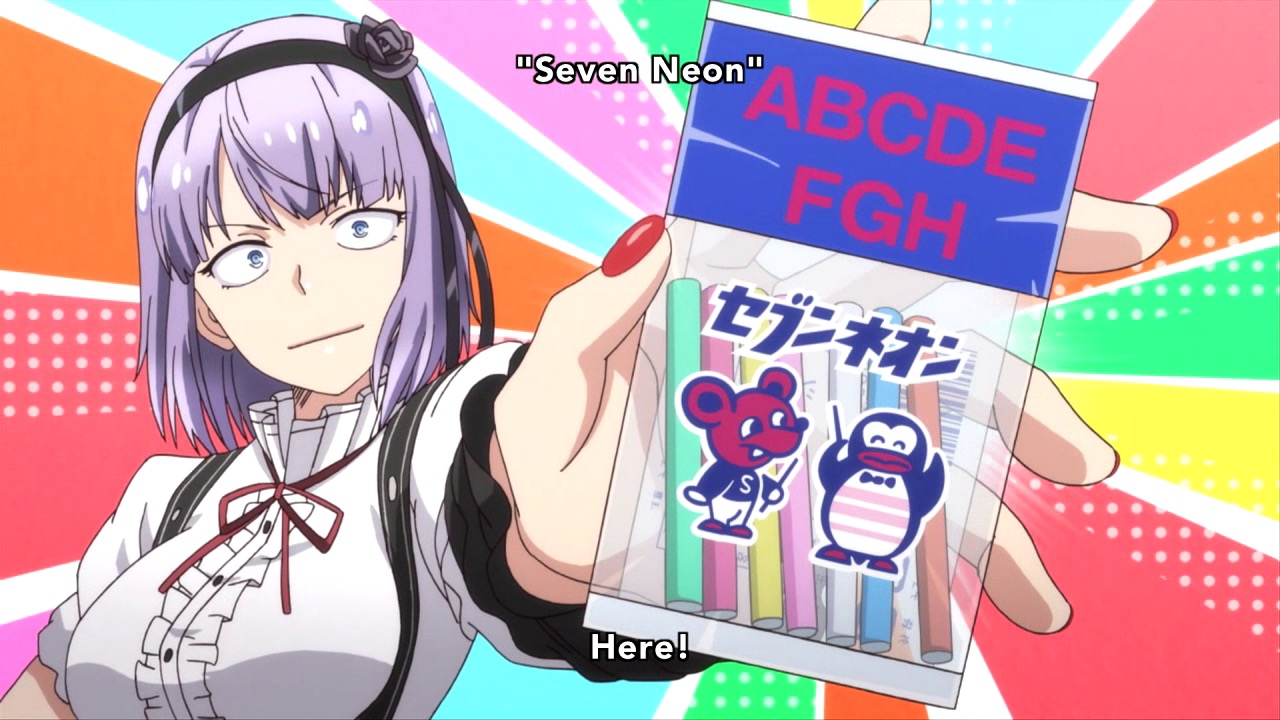 This candy is like a pixie stick, with sugar in a tube that you use to suck the sugar into your mouth. It's just sugar, so of course it tastes good. Lol You can get these in the Dagashi Sampler Pack 2 at JBOX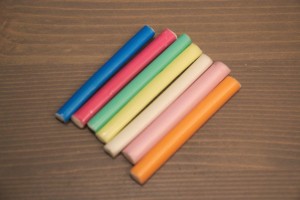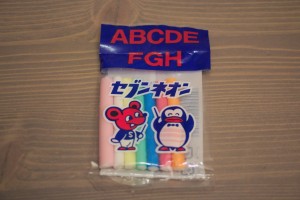 The other classic I want to show you this week is Cocoa Cigarettes.
What we have here is a box of Orion's Cocoa Cigarettes, made by the Orion Star Candy Company. The candy itself is a hard candy in the shape of a cigarette, flavored with cocoa and peppermint.
You can grab a pack of cocoa cigarettes any of the following locations (partake at your own risk Haha):
Alright everyone! That's all for now! We were given a fun filled episode that got rather emotional at the end, giving us some insight into Hotaru's feelings and motivations. Also, we got another scene of Coconuts crushing on Hotaru, and Saya getting irritated. Who will he end up with? And will Hotaru finally be able to convince Coconuts to take over Shikada Dagashi? And where the heck are those new characters? Join us next week to find out the answers to all of this (maybe), and more! As always, have a great week and thanks for being here!
Next week on Dagashi Kashi!

posted in Dagashi Kashi