Episode 20 - Part 2
Returning to Dagashi Kashi, we see Coconuts enter the shop and greet Hajime and Saya, saying that he didn't know Saya would be there, but that he is nonetheless happy to see her there. Coconuts asks Hajime how her day went, and Hajime replies that, although dagashi is interesting, the work is pretty exhausting. Coconuts wonders if the store was busy that day, but the text at the top of the screen tells us that Hajime is full of crap. She has been napping all day, so why should she be tired? Hajime goes along with it and acts like she had a tough day on the job. Coconuts, being the nice guy that he is, lets Hajime go home early to rest while he takes over for her at the shop.
Hajime is very appreciative of getting off early and tells Coconuts that it is awesome of him to do that for her. Saya decides that maybe Hajime isn't such a bad girl after all. No sooner than Saya finishes that thought, Hajime pipes up and asks Coconuts if she can take a bath. When Saya hears those words from Hajime's lips, she goes ballistic! Lighting strikes metaphorically behind Saya as she is once again filled with white-hot fury.
"I didn't take one yesterday," Hajime protests.
Coconuts just looks at Hajime with dismay, and says, "Uh, I'd prefer you bathe every day."
"Okiieee dokiiieee…" Hajime acknowledged as she went further into the dwelling area of the shop.
Saya questions Coconuts about the new girl, confirming if she really is just the new part-time employee. Coconuts says that Saya is correct, but that Hajime is a live-in worker, which helps a lot. Saya calmly agrees, saying, "Ah, that makes sense," before violently grabbing Coconuts by the collar of his shirt. Saya yells at Coconuts, "What is wrong with you?!"
As we cut to a transition panel, Coconuts just whimpers, "What did I do?"
We return to the show, coming upon Tō as he walks along in his awesome shirt (seriously, that shirt is so cool!). Tō starts thinking that it's been as hot minute since he and Coconuts played debt collector. It is about time that Tō show Coconuts what he has been working on, his true A-game mafioso persona.
"In this kinda game, you have to start strong," To says coolly, taking a cocoa cigarette out of the pack. "If you don't commit, then you risk looking stupid. And no one wants to look stupid." Famous last words if I've ever heard any.
Tō slams the door open, putting on his best impression of a local tough. Tō exudes an intense aura as he cautioned, "Hey, Shikada! It's time for you to pay the piper you filthy animal. If you can't pony up the cash, then I'm afraid you've left us no ch…"
Tō suddenly realizes that he isn't even talking to Coconuts, and that Hajime, a stranger to Tō, is the one he is talking to instead. Tō feels like an idiot for talking in a mafia voice and thinks that this cute girl is totally going to think he is lame. He drops the cocoa cigarette out of his mouth and it clatters to the floor.
Much to Tō's surprise, Hajime is actually going along with his bit. She is totally playing into it, trying to be courteous towards To so that he doesn't get embarassed. At least, that is what Tō thought. However, in reality, Hajime truly believes Tō's mafia bit. She pleads with Tō to come back later when Coconuts has returned. She clearly seems frightened, her voice trembling. Tō sees that she is buying into his gangster routine, and decides that he cannot let her down now, not after she has been such a good sport. Tō lays into it heavy, really milking his new role for everything it's got. Picking the cocoa cigarette off the ground, he resumes his tough-guy act and says that he is tired of having to come back later.
Tō claims that he can't go back empty handed. After all, he is a G, right? Thug Life! Tō takes it a step further, informing Hajime that she can pay him off with her body. Hajime stammers, "Pay with my body?" Hajime jumps back and starts screaming. She yells at him to please spare her, that her lifestyle choices are iffy at best.
After she begs some more, Tō finally agrees to let her off the hook, but on one condition. Hajime has to do something funny. Without even missing a beat, Hajime takes off her glasses, places them in her pocket, and begins to wander around the room looking for her glasses. In a stilted, joking voice, Hajime asks, "Geez, what the? Where are they? Can't find my glasses. Where could they have gone?"
Hajime looks around, and leans down to the dagashi, her glasses off and the long brown hair around her face framing her dark eyes and gentle smile. Tō cannot believe what he is seeing, but this girl has found the perfect dagashi to elevate the gag! He can hardly contain his excitement as Hajime grabs a pair of chocolate glasses, also known as High Eight Chocolate, and places them over her eyes like glasses. In the same joking voice, Hajime says, "Yay, now I can see!"
Laughing a big, goofy giggle, Hajime flashes Tō a silly smile. Tō thinks to himself that this is the kind of chocolate glasses snack that you see near cash registers at grocery stores all the time. Tō is very impressed with Hajime's humorous repertoire, comedic timing and improvisational flare. Tō thinks to himself, "This lady is good!" Tō beams brightly at Hajime, shouting, "Wow! That's funny!" Could Tō be falling for Hajime?
Hajime continues, "Not only can I see, but I can also have a snack." Tō gets super excited, blurting out, "Functional and yummy!" Tō gets so won over by Hajime's damn good performance, that he begs her to have a turn. Tō ends up buying 10 pairs of the High Eight Chocolate and seems to be happy with his purchase. Good job Hajime! It is only your first day, but you've already sold your first dagashi!
Tō puts the chocolate glasses over his eyes and laughs manically, asking, "My friends are gonna laugh so hard, right?" Yeah, I dunno about that one Tō. Haha We will have to wait and see what Coconuts thinks about that joke.
The candy Tō buys is a ring of candy chocolates whose packaging forms the shape of glasses. Hajime used this dagashi to great effect when she pretended to use them as glasses, making Tō laugh in the process. The real name of this candy wasn't mentioned specifically in the episode except for in the episode title. Furuta High Eight Chocolate is a classic dagashi candy that is adored by many in Japan, especially among children.
Blippo.com describes this dagashi as "Button-shaped chocolate candies that are coated with rainbow colors! The inside is delicious milk chocolate and the exterior is crunchy candy shell. Candies are packed in stylish packaging where the candies are in a shape of number eight. One package includes 3 individual candy sheets. So yummy!"
As we have been reading these last few weeks, the companies that make the dagashi snacks are as much a part of the story as the candy itself. These old companies have rich histories and have been making dagashi for more than fifty years. They are part and parcel of what makes the world of dagashi tick. Just as we saw earlier, these companies can vary widely in the products they focus on, and it is because of this that there are still so many manufacturing sites in Japan.
The manufacturer of the High Eight Chocolate, Furuta Confectionery Co., Ltd., celebrated its 65th anniversary last year in 2017. Last year was also the 50th anniversary of the High Eight Chocolate dagahsi candy. The company was founded on August 1, 1952, when the three Furata brothers started their first cookie comopany. Furata is a large company, and currently has around 280 employees, compared to Yaokin's roughly 57 employees. You can learn more about Furata's history at the official Furata wesbite, or see a a list of popular Furata products.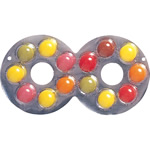 Need another pair of glasses? Can't find the last pair you misplaced? Finally, the dagashi that has the solution you need! Get some stylish chocolate glasses for yourself at any of these online retailers:
Amazon.com
Amazon.com (bulk)
Global Rakuten Market
Blippo
Mix.com
Another version of the High Eight Chocolate, by the same company, is the Furuta Wanage Chocolate. This dagashi contains the same chocolate candies, however, the blister-pack is in a circular shape instead of the shape of glasses. This one is more rare, and can only be found on:
Mix.com
Want the same candy but don't want to fuss with small blister-packs? Just get a bag of Futura Colorful Chocolates. Just like M&M's in the United States, these bags come with a handful of chocolate pieces inside, contained in one section as opposed to the individual pods used in the blister-packs. A couple options can be found here:
Amazon.com
Blippo (Super Mario Bros.)
Finally, the Furuta company has many different dagashi snacks, and these are but a few. Take a look at these links to see where you can get their other candies:
Amazon.com
Amazon.com (California)
ebay
MunchPak (Super Mario Bros.)
Blippo
Kawaii Distribution
Shopee
Global Rakuten Market
Starry Asian Market
Cool Stuff Japan
Tō leaves that store, thanking Hajime for the wonderful purchase. After he leaves, Hajime collapses onto the ground, exhausted. "Wow, I survived," Hajime sighs. Coconuts returns to the shop, shouting a greeting out to Hajime as he arrives. Upon seeing Hajime collapsed on the floor, he runs over to her side to see if she is okay. "What's wrong, Miss Hajime, what happened?"
"Kokonotsu…" Hajime utters.
"Eh, what's up?" Coconuts asks.
"I promise… Ill protect your shop, okay?!"
"Eh, what?"
Hajime yells at the top of her lungs, one final, "I'll protect it!"
As we go into the credits, shortly into the ending song, we see Hajime with her chocolate glasses! How fun! Again, we are treated to the wonderful translated lyrics to the song, just as with the opening. Omg, reading the lyrics right now as I right this, and this is a good song! It is so cute and sweet! Totally sums up Hotaru and Coconuts together, and that last fateful moment they shared under the fireworks and the moonlit sky. Awe, I can't help but smile when I listen to the song with those lyrics.
Thus concludes another episode of Dagashi Kashi 2. Hajime managed to not burn down the dagashi shop, and in fact, somehow got Tō to buy a bunch of candy. It seems that, despite Hajime's lack of innate dagashi knowledge, she may have an instinct for sales. Beneath Hajime's clumsy exterior lies a girl with real charm. She is genuine and nice, and seems to have good intentions for the Shikada Dagashi shop. Seeing her interactions with Tō was great, and I think it would be interesting if they had Tō be interested in Hajime. We will have to see as the episodes go on. One thing is for sure, Saya is not going to let another girl come into her life and take Coconuts away from her. Will Saya be able to lock Coconuts down before it's too late? Will Shikada Dagashi be able to compete against the encroaching urbanization? And will Coconuts finally take that final leap to follow his dreams? Tune in next week to see more dagashi, to have some laughs and to bond over snacks and friendship as we continue the epic saga of Coconuts.
Dagashi Classics
The first classic dagashi this week is one that was used by Hotaru in season 1 to perform a dagashi dance. They also play some games with them, and Saya makes her Himo Q candy into a Jacob's Ladder. Hotaru explained that this dagashi was meant to be played with, and encouraged Coconuts to do so. Hotaru said that this was the genius behind this dagashi, because most of the time people are discouraged to play with their food, and this dagashi does the exact opposite.
Amazon.com says that "The gummy stretches to 126 cm long and comes in a combination of cola and soda, and ramune and melon soda flavors. Sweet and with a slightly carbonated taste, this is a great candy to share with a friend." This is a fun dagashi candy that is along the lines of the Strawberry Roll-Up Candy from this week's episode. Both are long, gummy candies that have a variety of flavors. However, the Himo Q has much more stretchiness when compared to the Roll-Up Candy. You pick up some Meiji Cho Himo Q Super Long Gummy String from any of the sites listed below:
Amazon.com
ebay
Blippo
Also available as part of the Dagashi Sampler Set 2 from
JLIST
or
JBOX
.
Get your Dagashi Sampler sets soon! Although they are only on preorder, both Dagashi Sampler Set 1 and Set 3 are already sold out. Preorder yours soon to make sure you don't miss out on these Dagashi Kashi themed snack boxes.
And then...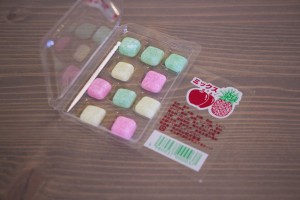 The final classic dagashi this week is called Kozakura Mochi, also known as Cherry Mochi. These flavored rice cake candies come in a variety of colors and flavors. Cherry and Green Apple are popular favorites.
Get your mochi candy right over here:
Amazon.com
Amazon.com (Rainbow Assortment)
ebay
JLIST
JBOX
Candy Warehouse
NinJapo
Youtube - Begin Japanology - Mochi Rice Cake (NHK Documentary)
Dagashi Links and Articles
Hey all, this week's links are focused on videos! There are a lot of fun ones, so check them out!
Kotaku posted a brilliant little video that combines all sorts of animated works, from anime to stop-motion and everything in between. The central theme that ties all of the clips together is that they are of food. Sounds fun right? Well, it is! Check out this unique mash up that highlights just how awesome food can look in animation. In addition, clips from British clay animations (Aardman Animations!), as well as Pixar and Disney films.
Youtube - Breakfast, Lunch, and Dinner: Supercut
Or, check out this fun video of an American couple who go to an all-you-can-eat dagashi bar in Tokyo. It is a fun video and the snacks and location look really cool!
Youtube - ALL-YOU-CAN-EAT JAPANESE SNACK BAR 🍡
This next video is really funny and kind of shocking. You should watch this one! They couple from the last video go around Tokyo going to weird vending machines. And boy does it get weird! Lol
Youtube - I Found the Creepiest Vending Machine in Japan
Thanks for joining me this week for another entry in the guide! We are down to about five episodes left, as we fast approach the end of Season 2. My thoughts? Season 3 bring it on! I am so ready for you! If the manga is any indication, another season is likely going to be in the works in the future. At the very least, we have all of season 2 left! Make sure to come back every week to find out all about dagashi!
Don't forget to sign up for Hotaru's Dagashi Giveaway by this Monday at 4 P.M. ET to be eligible to win prizes. See the rules in the post made earlier on this page. May the best snack warrior win! Alright, I will see you next week for Episode 21. Have a great weekend!
Next time...