Saturday October 27, 2012 at 06:40 pm by TakanakaSonic64
Welcome to the Unknown...
Where you travel across dimentions of wonder and excitment. Do you have what it takes to go through the Unknown?
What was thought to be a simple amusment ride that was abandoned is now filled with activity. One girl named Umi is the one girl who takes a risk to try and tell the tale.
"Hi. I'm Umi. All I wanted was to travel through time. Here's my chance! I found out that 'Unknown' is filled with activity. I want to see that for myself."
That was the quote that was from Umi herself. She dives in and finds out.
Suddenly Umi opens her eyes and is in a whole new world. "This is it! This is the Unknown!" Umi runs around to take a look. She finds a boy who lives there. Umi runs up to him, asking him what's going on and has he heard about "activity"?
"In case you're wonderin' name's Luke. Yes I've heard stuff about "activity" but it's not what you think it is. It's just people who are called that because they have a different skin tone, odd colors like blue, green and purple. Even though I'm not one of them, I know how they must feel."
Luke swifts his hair to the side. Umi tries to figue out why the people are multi-colored. "I think I've found the solution to that problem!" Umi shouts. "They might be called that because they probably touched something that made them that way!" Luke widens his eyes. He's surprised that she answered at all.
"Well...here we are. The activity room." Luke leads Umi to the source.
Luke and Umi widen their eyes. "Who's this Luke?" Umi asks. "Lindsey...what are you doing here? I thought you were doing your homework..." Luke couldn't believe that Lindsey was in the activity room. "We'll chat later Luke! I've got to show you something!" Lindsey grabs both Umi and Luke and takes them to her destination. She points.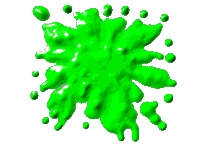 "Slime?" Luke questions. "Why is there slime splattered on the wall?" Lindsey has Umi touch the slime. "Touch it new girl!" new girl? Umi thinks. Umi touches the gooey slime, testing it for it's quality...if that's the case of why there is activity in Unknown. THAT'S IT! Umi thought. Umi told Lindsey that the slime is what's causing activity. Lindsey nods her head. "Come on Lindsey. Let's get you home." Luke tells Lindsey. Lindsey waves to Umi. Umi waves back smiling.
After Umi records in her notebook, she scraps off the slime carefully with her fingers. Umi dashes out of the room as quickly as possible.
Umi almost falls when she reaches the end of Unknown. She sees a portal to her own world. Umi looks back to see Luke playing with Lindsey. Umi waves and Luke and Lindsey wave back. Umi jumps into the protal.
Umi is back into her own world. Her mom calls her for dinner. "Umi! Time for dinner!" Just in time for dinner... Umi thinks. She runs downstairs to tell her story, one person at a time.
~End~