AKA Lets Talk about how we like to put fictional characters into couples and or obsess over weather or not something is cannon because we sadly have nothing better to do with our time *shot*
But on a serious note, thought it was about time we had a good shipping discussion, and for those who don't know, no I am not talking about the postal service, i'm talking about how so many anime, toon, etc fans like to pair characters together as couples...so, lets begin.
ok
1. What is your opinion on Shipping in general

2. How do you react to people who go overboard or people who do crack shippings (IE people who pair together two characters who have nothing to do with one another, or are from different series entirely.
3. Out of the various forms of media (anime, cartoons, comics, video games, etc) what are your favorite ships/pairings.

As for me.
1. I'm not really a shipper perse but I do have ships in cartoons & anime I am found of and enjoy, I think its kinda cute, but when people go overboard or become to obsessive (especially over non-cannon pairings) it gets abit annoying/creepy) I also hate it when people try to argue reasons why they think a pairing actually made cannon or insinuated is stupid and why their favorite pairing is better. So basically like with any other part of fanbases, in moderation its fine, but the people who go overboard....yeah...i just ahh...i try to stay away from them.
2. Crack Shipping is Bad M'kay, people who pair up characters from different shows or OC's..yeah..thats just...kinda stupid.
3. again not a huge Shipper but do have afew I love.
In the world of anime i'm a fan of IchiRuki, I mean Ichigo & Rukia's personalities work well of one another imo, kinda fun to see fan art that pairs em up. Oh and I also find Soi-Fons crush/obsession/whatever with Yuroichi entertaining.
Spoiler:
Highlight to view
Spoiler:
Highlight to view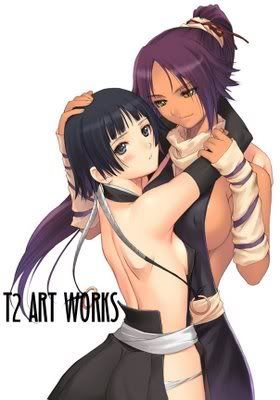 In U.S. Animation, I like the Pairing of Spike & Rarity from MLP:FIM, mainly because I always love rooting for the little guy, and its really the closest thing the show has to a ship aside from the already married parental/adult pairs that we see in the show so yeah. Plus something about a Dragon & a Unicorn being paired together just seems pretty dang cool. lol. Given some fans dislike this idea as while the main cast of the show are all mentally the human equivlant of teens (Faust said by human years they were mentally 12-18) and Spike is admitingly on the younger side of that mental spectrum 12-14 and Rarity on the older 16-18. Ehh its still pretty cute, and hey, not like other toons & anime haven't had couples with signifigant age differances (lookin at you Negi you dog...seducin all those teenage girls, you suave lil brit, lol.)
aide from that ahh.. I guess Etna & Lahrarl from Disgaea and Sonic & Sally from the U.S. sonic comic...and thats about it.
So yeah..... thats all I got, anybody else wanna talk shop..er ship..er ahh just post your thoughts yea buggers.